Dog Grooming Services in Carbondale, CO
If you're looking for a pet groomer in Carbondale, CO, then look no further than RJ Paddywacks. Our highly-trained dog groomers deliver individualized service with a gentle touch to have your pet looking their absolute best. Our staff groom all breeds of dogs. No matter if your beloved pet requires a simple wash and teeth brushing session, or it's time for a little bit of additional pampering, our dedicated crew is here to assist with all of your concerns for dog grooming. We provide a sanitary, safe, and pleasant area to freshen up your dog. At the time of booking, kindly mention your dog's age, disposition, and weight category to better help us pair you with the perfect dog groomer and solutions. Book your appointment today.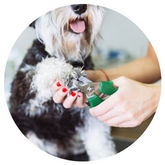 Nail Trim
We cut nails to a prudent length, just short of the toenail quick. Nail trimming prevents painful nail cracking or nails breaking.
WHAT Carbondale CUSTOMERS ARE SAYING
We love our customers from Carbondale areas around Glenwood Springs, Redstone, Marble, Basalt, Snowmass Village, Aspen,Woody Creek, Redstone, Carbondale, Hooks, and Old Snowmass.
Providing All-Natural, Organic, Raw and Freeze-Dried Diets For Your Pets. Come Into RJ Paddywacks For Pet Supplies Today!