Go From Tear To Clear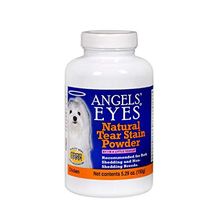 RJ Paddywacks is proud to carry ANGELS' EYES in Carbondale, Colorado. Our products are designed to help keep dogs and cats' coats looking their very best! Our Angels' Eyes tear stain remedies include; Angels' Eyes Natural® tear stain powders and soft chews, Angels' Eyes Plus® tear stain powders and soft chews available in chicken, beef, and sweet potato formulas and Angels' Eyes® Gentle Tear Stain Wipes. We also have Angels' Eyes Heavenly Coat ® Soft Chews for skin and coat, assorted shampoos that are paraben free, ear cleaners, and Angels' Eyes Nose Glow® and Angels' Eyes Soft Paw® balms to help keep dogs protected from both the warm and cooler climates.
Providing All-Natural, Organic, Raw and Freeze-Dried Diets For Your Pets. Come Into RJ Paddywacks For Pet Supplies Today!